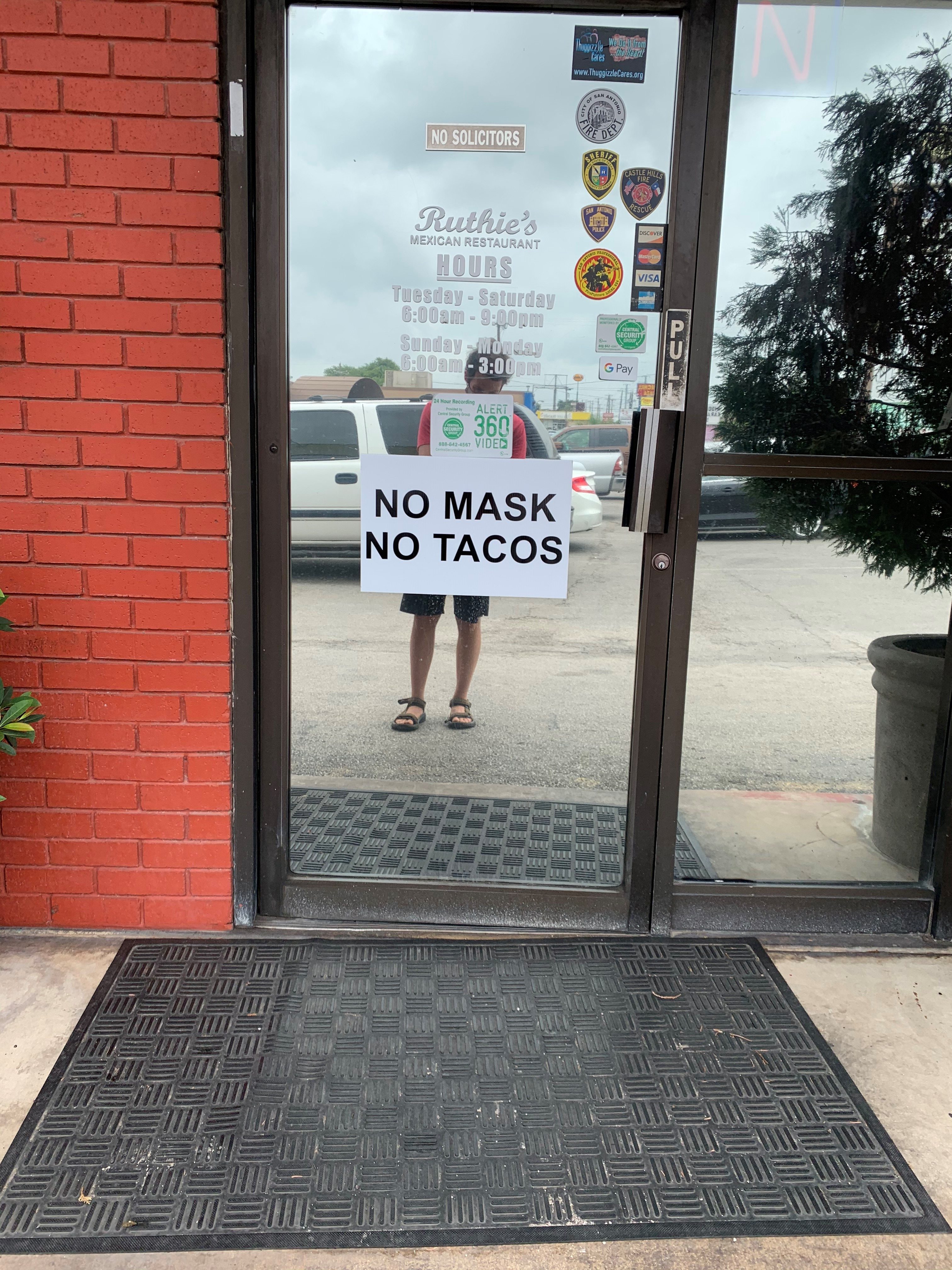 No Mask No Tacos
BY DAVID BEMPORAD
September 21, 2020
Ruthie's Mexican Restaurant in San Antonio, Texas is a northside institution. In a city marred by growing economic segregation, but bonded by a shared passion for the San Antonio Spurs, Fiesta, and neighborly love, community establishments like Ruthie's play a vital role – cutting across lines of difference and uniting San Antonians around a cornerstone of our cultural identity: tacos. 
Ruthie's largest customer base is the student body of nearby Winston Churchill High School, a base of which I was a proud member for four years. Every weekday after swim practice, every weekend after swim meets or ultimate frisbee games – I went to Ruthie's. I may have consumed more Ruthie's tacos during those four years of high school than salads in my lifetime. 
I have been buying the same three breakfast tacos there (Bean and Cheese, Potato and Egg, and Bacon and Egg) for over a decade now. I have seen every change to its photo wall, every failed expansion, and the endless patchwork repairs to the parking lot outside, but upon visiting last month, I noticed one striking change: a sign posted on every door reading, "NO MASK NO TACOS." 
Texas is handling the pandemic poorly. Governor Abbott has implemented consistently inconsistent policies, stripped cities of their ability to fight the coronavirus, and obfuscated the gravity of the COVID-19 pandemic, preventing many residents from responding accordingly. Events are canceled, rescheduled, and canceled again – city leaders axed our beloved Fiesta last April, only after first pushing it back to November. Texans put on their masks, take them off, and, sadly, have trouble putting them back on again. Clarity is in short supply. 
When I saw the sign outside Ruthie's, I chuckled, "Well, that's it! Put that sign everywhere, and we'll be the most masked city on earth!" 
"NO MASK NO TACOS" captures the simplicity and severity of my hometown's situation in a uniquely San Antonian way. Tacos are essential to the ethos of San Antonio, and its residents donning masks is essential if this city is to weather the pandemic. If refusal means residents lose their favorite breakfast, lunch, and dinner, wearing a mask should be a natural choice. 
This story is not about a community anchor lost to COVID-19 – Ruthie's faced tougher odds in the 2008 financial crisis, and according to its management team, its take-out business has never been more popular. This story is not about my commitment to support my favorite local small business through a difficult time, though I do still go there as often as I can; it's not like I can just stop eating their perfect tortillas. This story is about a lighthouse in a storm, a local effort to lead by example when leadership and communication from the state government are useless at best and harmful at worst. This story is about a simple sign that gave me a whole new level of love for my favorite taco shop.
David Bemporad is a Master in Urban Planning student at the Harvard Graduate School of Design.