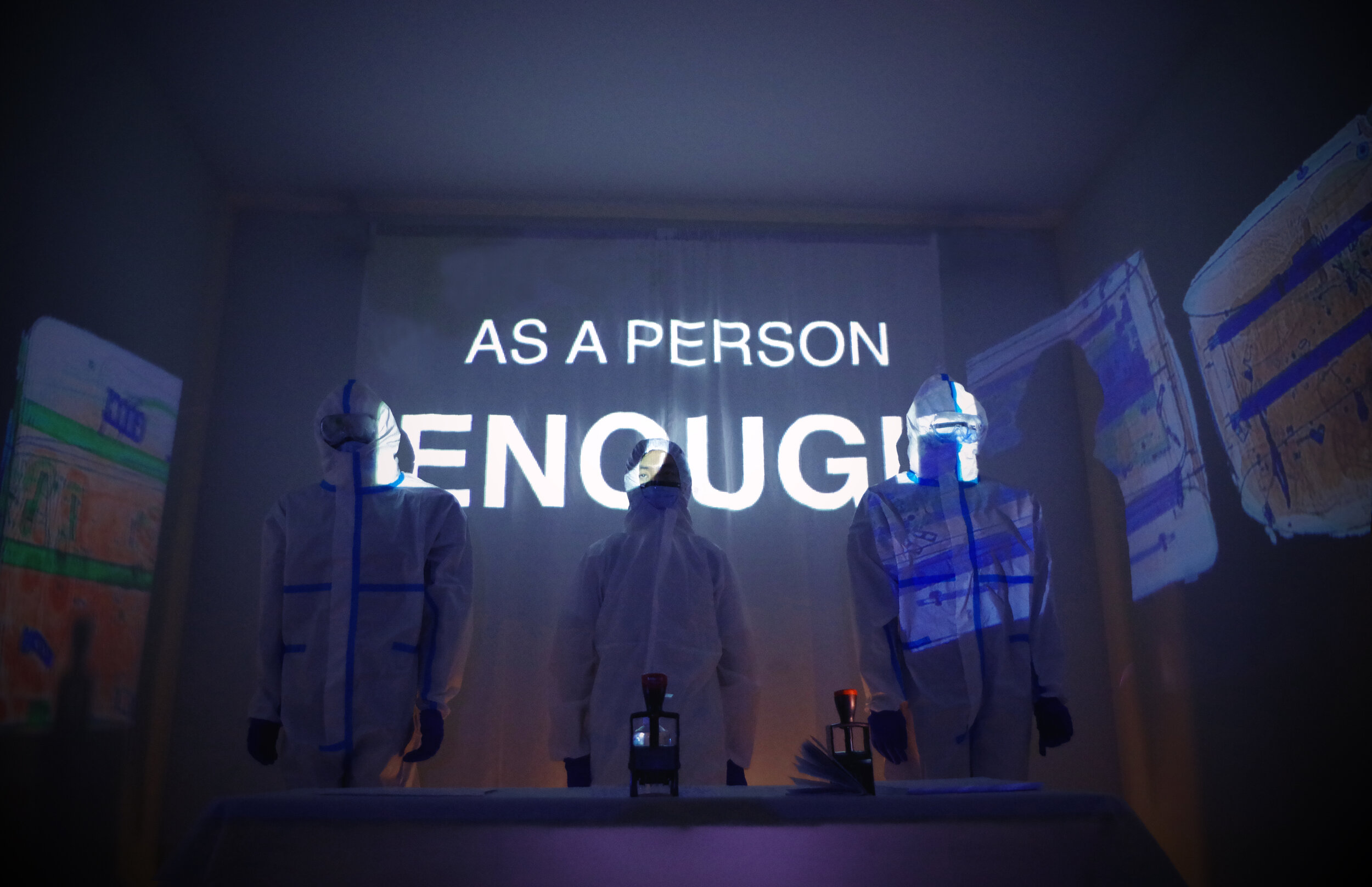 Floating Between Borders
BY DIANA GUO AND MINGJIA CHEN
June 15, 2021
Cultural geographer Denis Cosgrove treats the modern airport as a poetic metaphor exemplifying the modern world's unboundedness, flexibility, and mobility. For him, the constant flow of travelers represents a modern global interchange that cuts across both geography and time. However, this observation fails to address the realities of sociopolitical conflict. Today, it would be pure fantasy to say that international travel has "blurred" national identity or social hierarchy. National borders are, in fact, the very focal point of hyper-surveillance and socio-political boundary-making. The COVID-19 pandemic has acted as a catalyst, asking people to re-examine and acknowledge inequality in global mobility. Each and every body is now considered as a potential "carrier" of disease by the border. The formation and assertion of geopolitical borders has been pushed to extremes during the pandemic, leaving many people stratified, deported, denied visas or kept out from one country to another.
This exhibition reflects on and proposes radical reunion, borderlessness, the fantasy of reuniting with a loved one who just happens to be born with a different citizenship. It critiques the bureaucracy of borders and asks, what would the world look like without nation-states? What would the Earth look like if we did not have borders at all, if one could travel freely from one place to another? An Earth where nobody is a foreigner, nobody is inside, nobody is outside?
Affective Borders, Technological Borders, & the Shifting Border
Harald Baulder, a geographer focusing on the issue of migration, observed that the imagination of open borders is a faint, amorphous image on a distant horizon where the concrete terms of what an open-borders world would look like is not yet discernible or defined. Yet, open border politics are already practiced by migrants and activists on a daily basis and are not utopian but part of an ongoing struggle for change. The modern practice of border fluidity by migrants is heavily policed. In a sense, borders are inscribed onto bodies themselves in so far as one looks different by race, sex, or religion from societally accepted norms. Biased security screening, 'additional' security screening in airports and the tactics of  ICE patrol all demonstrate how certain bodies are perceived as carriers of disease, while the trusted bodies, complete with legal citizenship and a valid passport, pass.
While convention superimposes rigid lines on a map to delineate the boundaries between nation-states, using policy and law as enforcement, in reality borders are not fixed lines, but rather floating ones. In an essay on pandemic borders titled The Disorder of Things, Umut Ozguc observes that borders are an affective experience produced by our everyday movements, personal narratives and semiotic codes that define our relations with our surrounding environment. 
Borders carry weight. Often, they are deployed as tools to regulate the flow and migration of people, labor, and capital. As the author Arundhati Roy aptly put, COVID lockdowns around the world and the closing of borders worked together like a chemistry experiment, suddenly illuminating hidden things. As the rich guarded themselves in gated communities, large metropolitan cities pushed migrant workers, their labor force, outside the city's legislative boundaries. In the age of the pandemic, such workers are seen as unwanted accrual, health threats, and more 'disposable' bodies. In the spring of 2020, Indian prime minister Narendra Modi announced a nationwide lockdown.  Hundreds of migrant workers from neighboring countries had to turn back and go home, walking for days on foot only to find themselves barred at both ends—many low-wage Nepalis laborers were stopped at the border after Nepal restricted any movement from India. In another case, a boat with 400 refugees from Bangladesh was turned away from the Malaysian border and abandoned to float at sea for weeks without aid. Neither inside nor outside borders, the 'distrusted' body floats, stranded between legislative boundaries.
Border enforcement recognizes that rigid lines, walls, or fences cannot completely control the flow of bodies. As a result, the 'border' can be framed through many lenses, such as the technological or bureaucratic border, an expanding and the shifting boundary. Each of these regulates movement and migration. With the increasing use of technological tools at security checkpoints, it is becoming clear that privacy is contextual— 'distrusted' bodies do not receive the same standard of privacy as those who have greater legal status. The use of biometric tools in refugee camps, AI detectors, algorithmic automation in visa application processes, and the United Nations' use of blockchain tools to profile asylum seekers are all methods of surveillance that support the maintenance of borders. With COVID-19, many visa application agencies have begun implementing a medical exam component into the process to determine eligibility of border crossing. In a sense, the exam classifies and analyzes the body, forming a biological border between the test subject and the nation-state, the coveted destination. Migration management using technological tools has been facilitated by the rise of the pandemic, as agencies begin to test emerging surveillance technologies in the name of containing the virus.
The border exists not only at the edge of a territorial boundary, but is an active, shifting device. Hundreds of American visa regulators and border patrol agents are deployed globally, screening potential visitors before they land on American soil. By expanding the 'buffer zone' between U.S territory and the 'outside world', the border travels well beyond the land. In the reverse direction, the buffer border also seeps into the interior. In the U.S., 'expedited removal' policies allow immigration patrol to expedite the process of removing undocumented people from American soil if detained within 100 miles of an official land or coastal border. Offshore visa processing is another way that the border has expanded—in Australia, asylum seekers are put through a procedure the country calls 'regional processing'. Set into place seven years ago, the policy states that any illegal undocumented visitor will be automatically removed and transferred to a third country, or offshore locations in Pacific remote islands to await further action on their claim(s) to asylum. Ayelet Shachar aptly observes that by" legally recharting the area of Australian territory upon which asylum claims can be made, and by removing any intercepted irregular migrant offshore in remote locations in poorer and less stable third countries, Australia has invented one of the most striking manifestation of the shifting border."
The Physicality of Curating an Online Exhibition
Similar to many other exhibitions held during 2020, Floating Between Borders took place in the virtual realm. Still, the exhibition firmly grounds itself in the physical presence of an empty room filled with artifacts that resemble our personal COVID border experience – mannequins fully dressed up in single-use hazmat suits, passports, endless amounts of stamps, hand sanitizer, folding tables. This room provides an anchor for thoughts, from which further ideas spiral outward.
In Relational Aesthetics, Nicolas Bourriaud argues that the intention of art is to prepare and announce a future world; however today it is modeling our possible universes. He further elaborates on contemporary art spaces, describing experiences presented as a period of time that one lives through, rather than a sequence of space one walks through. In our context, the exhibition room is a snapshot of the unprecedented time that we are living in. Relating to the Shifting Border concept, we were initially interested in the literal modeling of a national border in a domestic setting – transforming one's own bedroom into a border services device at an airport.
The development of the online proposal runs parallel with the transformation of the room. The process of collecting the materials and setting the room up vaguely mirrors the process of preparing for a border crossing. Taking the bed apart, packing and placing items elsewhere represents relocation. Acquiring the props needed for the live performance from many different sources recalls gathering all the required documents, evidence and certificates for a visa application or an asylum claim. This transformation helps us to understand the contemporary border system as an immanent materialized social construct. Its devices, ranging from online apps to electrified fences, all aid in developing arbitrary boundaries that segregate families and inscribe varied legal statuses onto bodies. The room is therefore essential to our exhibition, initiating discussions and providing a workstation to continue reading and educating ourselves on the subject of borders.
Performance Art
As discussed earlier, Umut Ozguc describes borders as an affective experience embodied in our movements. They are lived spaces actualized by bodies on the move – and only live when certain actions are performed. To capture and model this, the centerpiece of this exhibition involves a live performance of a body in a hazmat suit, constantly stamping imaginary declaration forms throughout the length of the short film before offering the mannequins a hug at the end. Stamping is a strong representation of decision; at the border crossing, a passport being stamped grants or denies a body's entry into a nation state. For some, the guarantee of entrance is easily obtained due to their citizenship. The privilege of being able to cross borders without extensive examination is a birthright that many bodies have taken for granted. The invention of the passport in the 19th century has created a global mobility divide, where people from wealthier states move more freely, while those from less-stable states are restricted.
At the beginning of the pandemic, we wrapped ourselves in single-use hazmat suits, nervously checking border closure information and flight updates daily, only to hope that we could travel home. Towards the very end of the performance, the body stops its stamping action and walks toward the mannequins in a welcoming embrace, as the film asks – "What would radical reunions look like?"
Poems from a Declaration Form
Facing a border declaration kiosk at the YVR, we are being assessed by a set of YES/NO questions:
"Have you visited a farm in the past 10 days?
Have you visited China in the past 14 days?
What will you offer to this country?
Are you carrying more than $10,000 in cash?
Most importantly, are you carrying a disease?…"
The declaration form is designed to be an effective way of screening the traveling body. Each incoming human is differentiated by the benefits they bring to the country, or their presentation of a potential threat. The binary nature of these questions violently flattens identity, agency, and humanity, failing to recognize each individual as a person.
To start to imagine a borderless world, we start by taking apart a single sheet of the declaration form. In the form of found poetry, five poems are presented, to rendering declaration form as a critique of selective inclusion,. Here, a dialogue starts between the form and the traveling body, gradually stripping away the claimed ideology of border enforcement to its core motivations:
POEM #3: See Definitions on Reverse  
I AM (SEE DEFINITION ON REVERSE)  
COMMERCIAL MERCHANDISE"  
ARTICLES  
OR GOODS  
THAT ARE NOT CONSIDERED PERSONAL.  
POEM #7: General Entry  
ENTRY OF DANGEROUS AGRICULTURAL  PESTS AND PROHIBITED LIFE  
(IS) RESTRICTED: 
SOIL, MEAT, BIRDS, SNAILS, AND OTHER.  
CONTROLLED OBSCENE AND TOXIC SUBSTANCES  
ARE GENERALLY ENTRY.  
BORDER(S) AND CULTURE AND LIFE  
CAN RESULT IN  
SEIZURE.  
POEM #8A: The Sport of Monetary Instruments  
THE TRANSPORTATION OF MONETARY INSTRUMENTS  
IS LEGAL.  
HOWEVER,  
YOU BRING IN TO THE UNITED STATES  
MORE FOREIGN EQUIVALENT.  
A NATION OF LAW ON 105 BORDERS.  
POEM #8B: The Rulebook of Monetary Instruments  
PROTECT MONETARY INSTRUMENTS 
IN COIN, CURRENCY, CHECKS, AND  
CASHIERS CHECKS AND STOCKS AND BONDS.  
IF YOU HAVE MONETARY FAILURE TO REPORT  
YOU ARE CARRYING  
CIVIL PENALTIES 
AND/OR  
CRIMINAL PROSECUTION,  
ON THE OPPOSITE SIDE OF TRUTHFUL DECLARATION.  
POEM #10: Haiku of an Information Processing Machine    
A PERSON IS NOT INFORMATION  
UNLESS UNTIL IT DISPLAYS  
A VALID CONTROL NUMBER. 
THE CONTROL NUMBER 
FOR THIS COLLECTION  
IS 1651-0009.  
THE ESTIMATED AVERAGE TIME 
TO COMPLETE THIS APPLICATION 
IS FOUR MINUTES.  
YOUR RESPONSE  
IS MANDATORY.  
References:
Ayelet Shachar, The Shifting Border (Manchester, U.K.: Manchester University Press, 2020).
Beech, Hannah. 2020. "Coronavirus Finds Fuel in a World of Migrants." New York Times, April 10, 2020, sec. World. https://www.nytimes.com/2020/04/10/world/asia/coronavirus-migrants.html.
Bourriaud, Nicolas. Relational Aesthetics (Dijon, France: Les Presses du Reel, 2002)
Carens, Joseph. "Aliens and Citizens: The Case for Open Borders". The Review of Politics, Vol. 49, No.  2 (Spring, 1987), pp. 251-273. Cambridge University Press.
Esposito, Roberto. 2008. Bíos: Biopolitics and Philosophy. Minneapolis: University of Minnesota Press.
Ozguc, Umut. 2020. "Borders, Detention, and the Disruptive Power of the Noisy-Subject." International Political Sociology 14 (1): 77–93.
Ozguc, Umut. 2020. The Disorder of Things,  For the Relentless. Criticism of All Existing Conditions Since 2010, "An Essay on Pandemic. Borders: From 'Immunitary Dispositif' to Affirmative Ethics, April 23, 2020.
Roy, Arundhati. 2020. The Pandemic Is a Portal. Financial Times, April. https://www.ft.com/content/10d8f5e8-74eb-11ea-95fe-fcd274e920ca.
Shrestha, Subina. 2020. "Hundreds of Nepalese Stuck at India Border amid COVID-19 Lockdown." Al Jazeera, April 1, 2020. https://www.aljazeera.com/news/2020/04/hundreds-nepalese-stuck-india-border-covid-19-lockdown-200401031905310.html.
Slater, Joanna, and Nina Masih. 2020. "India Coronavirus: Migrant Workers Stranded by Lockdown Walk Hundreds of Miles Home." Washington Post, March 28, 2020. https://www.washingtonpost.com/world/asia_pacific/india-coronavirus-lockdown-migrant-workers/2020/03/27/a62df166-6f7d-11ea-a156-0048b62cdb51_story.html.
Stevis-Gridneff, Matina, and Patrick Kingsley. 2020. "Turkey, Pressing E.U. for Help in Syria, Threatens to Open Borders to Refugees." New York Times, February 28, 2020. https://www.nytimes.com/2020/02/28/world/europe/turkey-refugees-Geece-erdogan.html.
Turner, Bryan S. 2007. "The Enclave Society: Towards a Sociology of Immobility." European Journal of Social Theory 10 (2): 287–304.
Mingjia Chen is a landscape designer at Hapa Collaborative in Vancouver, BC. Stemming from a background in geography, he is interested in studying the social constructs or social facts that sculpt our built environment, and how designers could reimagine them to advocate inclusivity. He will be starting his Master of Architecture at MIT this fall. 
Diana Guo is a MLA student at Harvard GSD interested in creating sensory atmospheres through storytelling and poetry and believes in the soft power that stories can bring. Moving forward, she will continue researching themes of biopolitics and inclusion/exclusion in design practice and art. Diana can be found on Instagram at @dianaguoprojects.