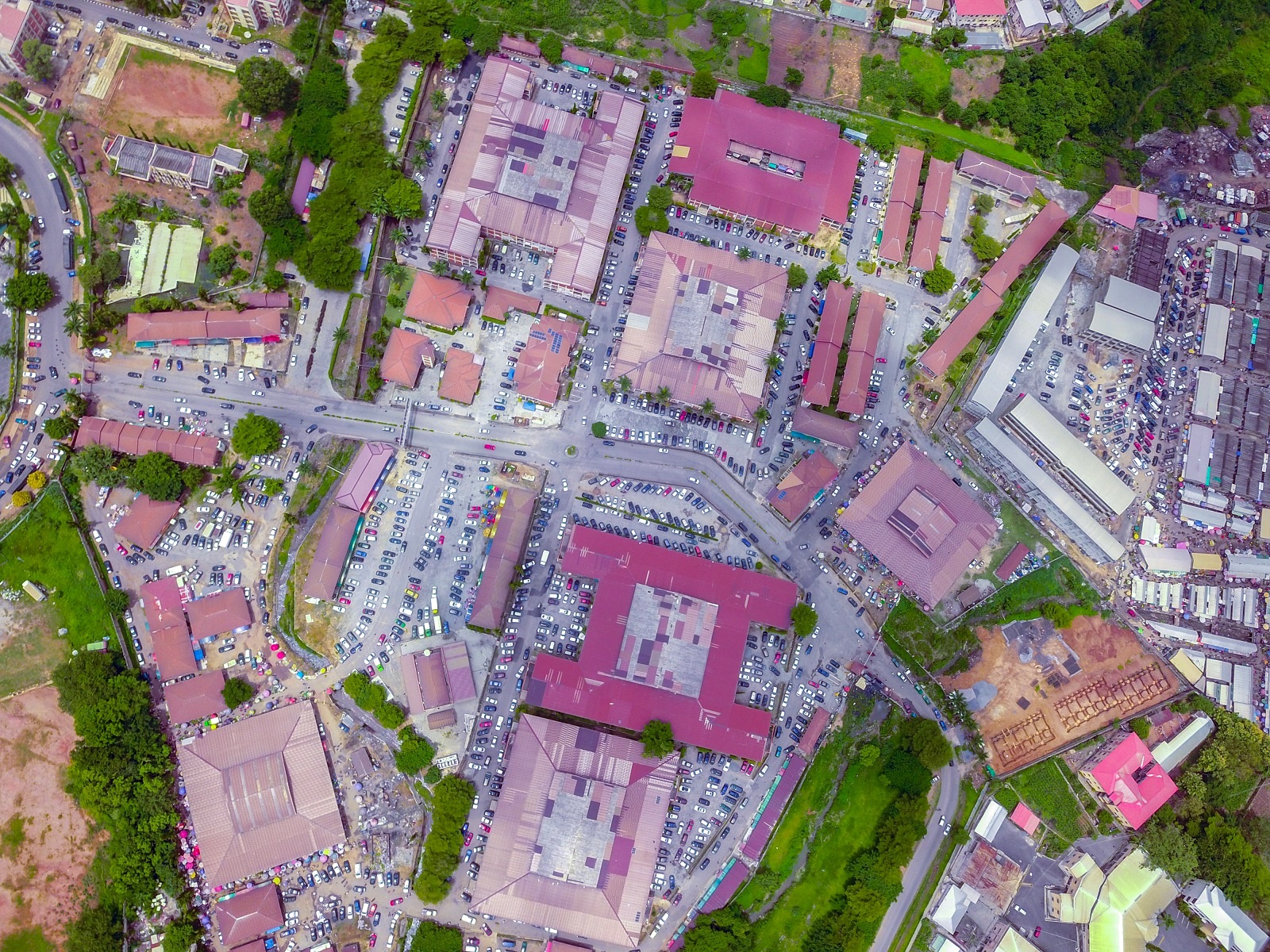 "You Are Sick", "No, We Are Not": Africa, the Pandemic, and the Convolution of Denial.
BY STEPHEN AJADI
June 11, 2020
Invocations: Diagnosia
I: 1995
"It is nothing".
The words come out very slowly and disconnected — like a broken record. I am shaking, the cold of yesterday has finally caught up with me. They told me not to play in the freezing rain. Not only did I play, I played naked in the freezing winds. Everyone was doing it and there was this ramp that lost friction to the falling waters. It was wonderful sliding my butt cheeks across it…then doing it again, and again. This was yesterday but I am shaking today. Upper teeth grabbing upper lip like I am dragging my bedsheets from my older sister, who comes to wake me up for school every morning. School, ah, I have to go to school tomorrow. It is Loveline's birthday and her rich parents literally light up the school on her special day each year. It's going to be fun. The food, dancing, games and more food. After-school will be sick! I must not miss it. I am her best friend. I must not miss it.
"It is nothing, mother".
I say the words again. Trying so hard not to shake this time…failing.
"You have a fever; you can't go to school". 
Mother looks away as she says it. She does that when she has made up her mind. 
"You are sick Stephen; you cannot go. Your sister already told the school. Take off your uniform". 
"But I am okay, mother. Look at me. I am okay!"
Mother does not look at me. She walks out of the room after folding my clothes. I pick my bag and run out of the room, out of the house. The cold breeze hits me all over. My cardigan does not help. I keep on moving. It is hard. My head is ringing, my palms are numb. It feels like I have been walking for an hour, but I am not even near our gate. I think of school, of Loveline, of the food, of the dancing. I turn back. Mother is waiting at the door; she has been looking at me all the while.
"Why did you change your mind? Aren't you going anymore"? I am too young to sense the sarcasm. 
"I can't go mother; I have a big fever".
Mother acts surprised. "You don't say! There is hot chocolate on the dining table for you. Take off your jacket and your bag and your uniform. You've got them all wet".
II: Post-Royal 2021
Oprah sits across a couple for two hours. She is talking to them about their life in the Royal Family.  Harry and Meghan—the Duke and Duchess of Sussex. Meghan talks about her suicidal phase. 
"I just didn't want to be alive anymore," she says. 
But she is a professional actor. Some people thought it was her craft at work. Others ignored her. 
"Nothing was done", she says.
Denial I
The two cases of diagnosis show different poles of how sickness can be perceived, received and operationalised.  Non-clinical conceptions of sickness are not as often discussed. It is always numbers, graphs… 'data'. Over time, the relationship between humans and sickness has evolved through various social themes and phenomena. The most recently dominant of these are religion, gender, politics, and economics. Sickness takes different forms in these social domains. In the context of our current pandemic, the acceptance of sickness has been more complicated than in recent history. 
Denial II
Towards the end of 2019, a disease broke out in a market in China. Doctors speak.
"We are sick". 
"No, you are not!".
The president of America—a very influential country on Earth–says it is nothing, that it will go away quickly. Many put faith in his words. Things get worse. He sticks to his claim.
"We are sick". 
"No, you are not!".
On the 10th of April, Melinda Gates says the Pandemic will hit the developing world in the worst way. She 'foresaw' bodies lying around on the streets of African countries. Shortly after, it turned out her prophecy was actually for her own country.
"You are sick".
"No, we are not!".
Africa: Where to Look
When the disease broke out in the world and the world was sick, the scientists focused on technical numbers. They looked to laws of medicine and epidemiology to figure out why the pandemic would be more devastating in Africa and what could be done. They ignored the other forces at play in the African city, how the current planning status quo was responding. The gaps between the formal and the informal are blurry in the West – almost everything is formal or a derivative of the formal. In Africa the informal is much more defined, and when it is not a response to the formal it is the mother of it. 
Economically, tensions between the formal and informal are significant in Africa (La Porta & Shleifer, 2014). Formal systems of living often work to erode and replace informal systems. In most of Africa the formal is a mirror of Western influence, simultaneously a vestige of colonialism and a manifestation of neoliberalism. The informal is organic, a product of culture, of trial-and-error among everyday people. The spatial chasms of this urban duality can be read across macro systems like mobility, housing, security and even commerce. Some countries have been able to learn a little from the informal while others treat it like a pregnant unmarried teenager or a thieving son, figures who, in most African cultures, are seen as 'things' of shame. Instead, planning strategies of the West are copied and pasted onto a world with little, if any, similarity. What goes unseen is then ignored, and eventually opposed. 
Denial III: From within
When the pandemic was granted a formalized identity (bestowed by the WHO,) reactions varied across the world. Some understood and accepted the identity of the sickness, others wanted more proof. They thought the sickness was acting. Others believed it to be a joke or a tentacle of politics, or both. Some of the most advanced countries asked for more 'data' or claimed it would soon go away. Some advanced countries laid their people on the sacrificial altar of 'herd immunity'¹ and asked their people to bid their elders farewell. Though Africa watched and learned, some advanced countries initially denied it at a national level. States like Tanzania have claimed not to be infected. Even after a late acceptance they persisted to the point of refusing the vaccine. Religious leaders across the world, and especially in Africa, presented a different kind of denial by recalibrating the identity of the disease as a test of faith. On these very literal terms, a faithful person was said to be free from the disease. In commerce and economics the disease did not face denial but its impact did. Businesspeople said anything to keep the stock market alive until evidence overpowered them. Leaders bereft of trust and integrity objectified the disease as a political prop or a weapon. In America, the mask became an object of politics – in Africa, funding and aid was similarly politicized. 
Denial IV: From Outside
After it turned out that African countries were resilient to the disease, a counter denial was born. Reasons started emerging from weird domains and voices. "The poverty helped them", "They are lying about the numbers", "It must be their hot climate", "Their time will come" (Martinez-Alvarez et al, 2020), "There is something in their body". While some of the reasons bordered on innocent ignorance, others were born of racist positions and inclinations. There has been no evidence of poverty as a resilience agent. There is no direct evidence to show a primary reason for climate or human biology (Mbow. M. et al 2020; Martinez-Alvarez et al, 2020). And if it were possible to hide deaths, Brazil's denial would have pulled through. And with the arrival of vaccines, it is somewhat unlikely for "Africa's time" to come, even though the continent isn't considered during distribution.
Denial, Space and Planning
Here, denial is not positioned as a primary reason for anything. It is engaged as a socio-spatial phenomenon in response to sickness at a global scale and the dynamics of it in Africa. Denial has been turned to, or operationalised across the world, though the reasons vary with social, economic, and political constructs. Standing partially on Lefebvre and Foucault, Soja (1980, 2009) talks of space being able to behave these ways. That space is not just physical 'data'… it is in fact social and an embodiment of social activity. It is fully obvious that thought languages like planning must engulf the various allotropes of bias and denial and look toward the natural in conjunction with the social in order to understand the spatial manifestations of the pandemic and possibly fully dislodge the riddle of Africa's outstanding resilience against all scientific odds. Space holds the answer, but planning is wise enough to ask the question. When it comes to this global outbreak, there is no one cause, nor is there only one factor for development (La Porta & Shleifer, 2014; Ataguba, 2020).  It is not even about how fast governments acted. Below are response delay times (in days)² of each African country to the pandemic. While almost all are better than some of the most developed countries, the nature of response is still as important.
Epilogue
Even though the idea of disease has dwelled within the jurisdiction of science, the pandemic has demanded more investigational hybridity. Planning, among other social languages, must engage our understanding of sickness. A kid or a country denies health or illness for personal reasons. A princess' health becomes a subject of politics, an entire continent deliberately misrepresented or naively appraised. The questions remain: Who decides the legitimacy of sickness beyond the scientific language of health? Whose voice is more valid; the sick, the caretaker, or the spectator? It is clear that planning was initially left out in the case of this global outbreak. Science was widely accepted as the only interpreter of sickness and we all fell for it. Planning in the best of its informality, however, was principal in Africa's response, but the process was denied recognition. Beyond 'R naught data' Africa embodies a social identity and nature: traditional herbs & diets, cultural responses to diseases, mobility, music and art as buffers of mental health… culture. Only if we jettison the denial of these phenomena will we be able to see how humans engage and thrive through global socio-spatial anomalies like neo-colonialism or a pandemic. Mábògùnjé (1989:68) shows that reorganisation of space can bring about development. A lot can be learned and a lot can be made better in the process…for everyone.
¹https://www.nationalgeographic.com/science/article/uk-backed-off-on-herd-immunity-to-beat-coronavirus-we-need-it
²Negative days show response before national index cases in respective countries
Witnesses 
Ataguba J. (2020), 'COVID-19 Pandemic, a War to be Won: Understanding its Economic Implications for Africa', Applied Health Economics and Health Policy 18, pp.325–328
La Porta, R., & Shleifer. A (2014), 'Informality and Development.' Journal of Economic Perspectives, 28 (3): 109-26.
Mábògùnjé A.L, (1989), 'The Development Process: A Spatial Perspective', London: Unwin Hyman p.68
Mbow. M. et al (2020) 'COVID-19 in Africa: Dampening the storm?', Science, Vol. 369, Issue 6504, pp. 624-626
Martinez-Alvarez et al (2020), 'COVID-19 pandemic in West Africa', The Lancet global health, 2020-5, Vol.8(5), pp.631-632
Soja E.W (2009), 'Taking Space Personally', In: The Spatial Turn: Interdisciplinary Perspectives. Wraf B. & Arias S. (eds), New York: Routledge, pp.11-35
Soja E. W. (1980) 'The Socio-Spatial Dialectic', Annals of the Association of American Geographers, 70:2, pp.207-225
Stephen Ajadi is a doctoral researcher at the Department of Land Economy & a member of Fitzwilliam College at the University of Cambridge. He is the founding Director of the African Contemporary Institute of Design (Nigeria & Uganda). Stephen is an Architect, Planner and a Development Economist. He holds an MDes in Design and Innovation for Sustainability from Cranfield University, UK, an MEDesign in Architecture from the University of Lagos, Nigeria, and a PgD in Management from the Nigeria Institute of Customer Relationship Management.