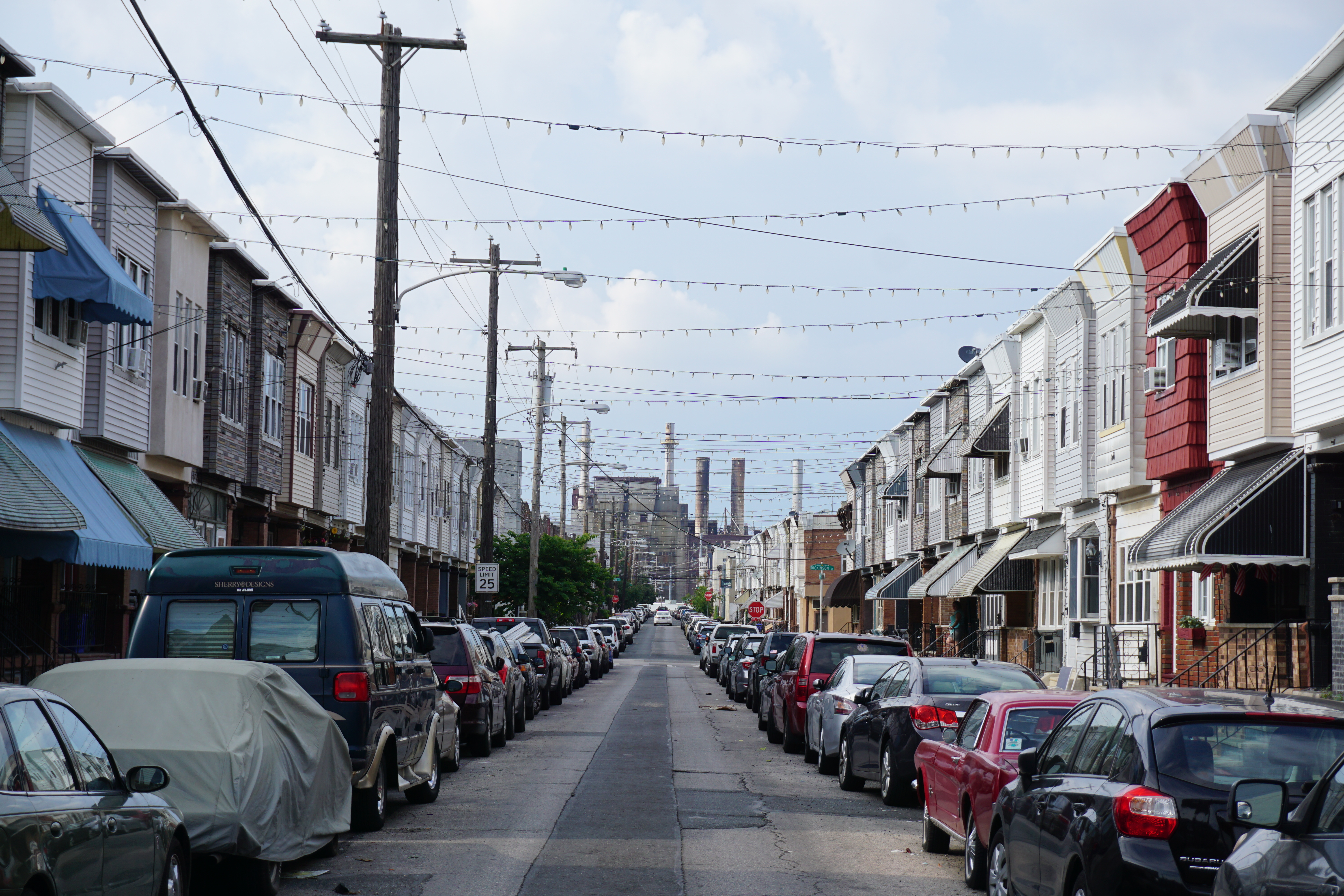 The Comorbidities of Urban Space: The Price is Right
BY JARRODD DAVIS
June 11, 2021
Over/Under
Philadelphia's Grays Ferry neighborhood and scores of similar neighborhoods – formerly overlooked, underinvested, oversaturated with poverty, and underestimated – have long been forced to react to the mechanisms of racial capitalism. The systematic undervaluing of Black urban neighborhoods created conditions ripe for usurpatory development rooted in generations-long denial of Black families to accrue wealth in real estate. For the better part of the 20th century, Grays Ferry was doubly affected by 1) the draining of city resources to respond to social issues and 2) the location of toxic industrial uses that have continued to exacerbate negative health disparities on residents including heightened rates of asthma, cancer, and high blood lead levels in children.
Throughout its history, Grays Ferry was poked and prodded by many economic, environmental, institutional, and social determinants that impacted its residents' health and well-being. As the coronavirus pandemic has revealed a number of comorbidities that compound to create volatile and lethal conditions if a human host is infected with COVID-19, capitalist extraction within urban spaces should be examined as a leading underlying cause of many plagues that physically cause human illness and suffering.
That's Too Much
The contemporary story of Grays Ferry should include the incredible efforts of grassroots community organizers working on behalf of residents, which include Philly THRIVE, Unity the Community, ROAD (Residents Organized for Advocacy and Direction), and many other participants. 
A young mother from Saint Louis's Pruitt-Igoe housing projects decried the exploitation of urban communities by researchers and academics: "All you people do is come down here and meddle in our lives so you can get stories and master's degrees and write some damn book. It may do you some good, but what good does it do us? We still get busted pipes and flooded apartments. We still get raped, robbed, murdered. You write to live and I struggle to live." 
Today, the University of Pennsylvania (Penn) is just as culpable in Grays Ferry. The involvement of different arms of the university (Pennovation. the School of Design, Penn Medicine, and others) leads to disjointed messaging, where the actions of one player contribute to community attitudes and willingness to engage with other Penn players. What is Penn's end game? Many residents are rightfully skeptical of the university's increasing presence in the neighborhood, citing Penn's expansion into West Philadelphia and subsequent displacement of Black residents as a precursor to already heightened development pressures present in Grays Ferry. 
Hot Seat
A 1992 New York Times article highlighted a sex scandal over two decades in the making. "2 Neighborhoods Linked in Scandal and in Shame," written by Michael Decourcy Hinds, details reports of Ed Savitz, who was alleged to have had sexual contact with hundreds of underage boys in Philadelphia since the 1970s. While Savitz lived in Rittenhouse Square – a neighborhood long heralded for its prestigious address in Philadelphia – his victims were largely boys from Grays Ferry. 
The Times article notes that Mr. Savitz kept a yearbook from the local school in Grays Ferry "that he used [it] like a catalogue, circling the pictures of boys he wanted to see." Savitz, a wealthy insurance executive, paid boys to participate in sexual acts and also provided payment for referral services, deepening the web of vulnerable children who were paid for their soiled undergarments, to perform a random assortment of sexual acts, and for their feces. The sexual predator had also amassed an elephantine collection of child pornography (police found 5,000 photos of underage boys). 
Boys sought to make a way for themselves in an industrial neighborhood of a city starved of industrial jobs as the city was besieged by drugs, violence, and decay. But a way for these South Philly teenagers to make a quick buck quickly became a dangerous modus vivendi. 
Savitz had tested positive for HIV as early as 1989 and continued his exploits as he developed AIDS over the ensuing years. AIDS call lines were inundated once the news of Savitz's diagnosis was public and the scale of his victims unearthed. The city was in a panic. Another high-profile case of a male pedophile impeded progress of gay advocates seeking to distance homosexuality from pedophilia. Many hurled threats of violence against LGBTQ+ people and organizations assisting people with AIDS. 
In the 1990s, people living with HIV and AIDS were already highly stigmatized, deprived of their rights to free movement, and villainized in their workplaces and in public. The plight of people living with HIV/AIDS was exacerbated by a slow federal response, a hasty suite of stigmas leveled against gay men and Black communities, and the already discriminatory nature of formalized western medicine. 
Just over a year after Hinds' Times article, the first feature film to grapple meaningfully with the conditions of those living with AIDS – "Philadelphia" – was released and in the same year, Angels in America won the Tony Award for Best Play. As attention to the ongoing AIDS crisis had escalated in the 1990s, so too, was the growing understanding that place was a prime determinant of health outcomes. Unfortunately, it was already too late for Grays Ferry. 
Gas Money 
The next time Grays Ferry would occupy a prominent position in the New York Times was summer of 2020. The world gripped by a deadly pandemic, the neighborhood reeling from increased incidences of unemployment and death, Grays Ferry had seen a disproportionate share of suffering – again visible for all to see.
One year prior, in June 2019, a massive explosion at the Philadelphia Energy Solutions oil refinery burned more than 600,000 pounds of hydrocarbons, dispersing thousands of pounds of hydrofluoric acid into the atmosphere. According to the CDC, ingesting small amounts of hydrofluoric acid can be fatal and even in a gaseous state can cause respiratory irritation. The blast also sent a Greyhound bus-sized projectile weighing 19 tons clear across to the western banks of the Schuylkill River. 
Philadelphia emerged as a national leader in oil refining post-Civil War. The refinery swallows 1,300 acres of South Philadelphia hugging the Schuylkill River. This refining history has contributed to asthma rates in South Philadelphia that are four times higher than the national average. Asthma and other respiratory illnesses have contributed to more severe cases of covid-19 in an area with higher unemployment and more pandemic deaths, not to mention more violent side effects of the pandemic and recession. 
Bullseye 
Amid a global pandemic, the city of Philadelphia faces a harrowing gun violence epidemic. Between 2019 and 2020, there was a 40% increase in homicides. At the time of writing, 2021 homicides have outpaced 2020 by 32 percent. Grays Ferry leads South Philadelphia in fatal and nonfatal shootings, while Philadelphia ranked second in the nation for the highest number of homicides in 2020. While city government has acknowledged a growing gun violence crisis, the mayor has not provided an adequate response. The city did, however, declare an emergency response to the opioid crisis in 2018, which is known to affect white communities more than Black communities. 
If enacted, the emergency response would deploy more city resources to combat the growing gun violence crisis faced by neighborhoods like Grays Ferry, though late 20th century history with AIDS and crack demonstrates the slow-moving ethos of government to respond to issues plaguing Black people. The de rigeur neoliberal response is to wait for the private sector to respond, and no private actor is more resource-laden than Grays Ferry's northern neighbor: the University of Pennsylvania.
Money Game
The university has already developed a response to gun violence. With untenable rates of crime and poverty in the city, Penn had its own suite of challenges with its neighbors in the 90s. When faced with the idea of walling off from West Philadelphia after crimes perpetrated against students, including a string of violent murders, Penn decidedly adopted a softer, multifaceted approach where it became more neighborly in order to colonize and "tame" the wild West.
In short, Penn's involvement in West Philadelphia involved creating a highly sought-after elementary school targeted at families already living in the area (who have faced rising rents and displacement ever since the school opened), resettling Penn faculty in long-term housing that would be in that school district, and creating an additional police force to supplement the Philadelphia Police Department and the university's own police force. Over time, these initiatives proved valuable in ripening West Philadelphia for gentrification and displacement, where the median home values have increased as much as 489% between 2000 and 2019. 
Time is Money 
Penn sited its Pennovation Works in Grays Ferry in 2016. The campus is a gated fortress at the neighborhood's edge, guarded closely with one controlled access point that looks more like a military base than a startup business incubator. For an entity owing its success to its occupation of lower-income Black neighborhoods in West Philadelphia, its expansion into Grays Ferry is curiously uninformed by lessons learned. 
Residents are rightly concerned about Penn's involvement and future plans in Grays Ferry. Will the university begin buying property and incentivizing faculty to move into Grays Ferry? Will they support a neighborhood school to attract families to "stabilize" the neighborhood? Will an additional police force be patrolling Grays Ferry Avenue?
When these concerns about the future of Grays Ferry arise, university officials have publicly stated that the university is not in the business of community development and that residents should not expect any benefits from Penn, even though proximity to Penn and improvements made by Penn are driving the development that threatens longstanding residents' ability to remain in the neighborhood. The university refuses to be held accountable for its actions.
Philadelphia remains the poorest, Blackest city among America's largest cities. Much of that poverty is intertwined with racial subjugation of Black people. Moreover, the racialization of Black spaces plays out daily in Grays Ferry. Lifelong residents faced rising rents and stagnant wages before the pandemic. Between 2000 and 2018, median household income in Philadelphia fell when adjusted for inflation and the city maintained a high number of service jobs which have been decimated by the pandemic. 
For Penn and many other investors who make their profits from real estate and the labor of vulnerable populations with economic precarity, the price is right. Penn's School of Design must reevaluate its activities in Grays Ferry. Students and design professionals should not aid and abet the urban renewal regime yet again, and while there is thoughtful work underway, any work that does not come along with substantial improvements for the people currently living in Grays Ferry should not be used to portray the university as a good actor. 
A framework that prioritizes people over profit and makes paramount the restoration of key ecological functions for the city's southern neighborhoods is the right price for Grays Ferry. Countless neighborhoods have been cut off from economic opportunity, bled dry by capitalist extraction, and dealt unmeasurable public health blows. Everything that happens on the ground now is either helping or hurting the generations of families who have made this place their home, and they have every right to enjoy the fruits of that labor without dying for some corporation to make profit. 
With a background in economic development in the high-growth American South, Jarrodd is a Philadelphia-based writer, developer, and advocate for better cities. He completed a Master of City Planning degree at the University of Pennsylvania and works as a real estate development professional in the affordable multifamily space. More of Jarrodd's work can be found at raleighcasestudy.com/jarrodd-davis, where he writes about places, people, and politics.